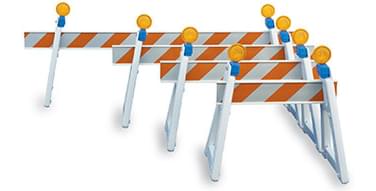 Durable and Convenient
TrafFix A-Frame is made of rigid impact resistant polyethylene. The A-Frame barricade leg is sand fillable for ballasting, stackable for storage and transportation. Each A-Frame barricade leg can be used with the TrafFix I-Beam Rails, Phoenix Plastic Rails, 1" × 8" or 2" × 8" nominal lumber.
Each Metro-A-Cade is designed with a barricade light mounting hole that can accommodate 1 standard or 1 "D" cell barricade light. The Metro-A-Cade is economical and is compatible with 1 or 2 Phoenix Plastic Rails, or 1" × 8" or 2" × 8" nominal lumber.